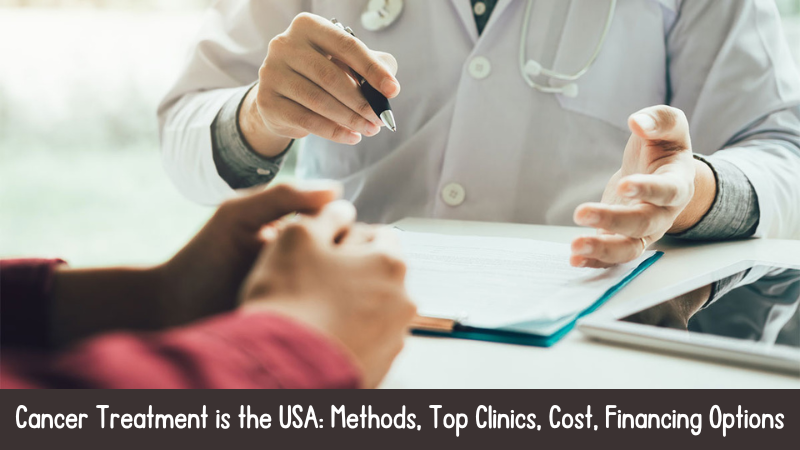 The USA boasts better cancer survival rates than most other developed countries. This was made possible due to a number of factors. In America, much attention is paid to medical equipment. Local oncology centers are equipped with the latest technology, actively use innovative technologies and new medicines. In addition, oncology in the United States involves extensive screening and more aggressive anticancer treatment.
Cancer treatment in the USA is carried out by experienced doctors who have a clear program of action at every stage of the therapeutic process. Cancer patients are offered advanced technologies and tools in the fight against cancer, combined with supportive care that helps reduce side effects and improve the quality of life of patients. Cancer treatment involves a multidisciplinary approach, which means that each patient is treated by a whole team of doctors of different profiles.
The cost of cancer treatment in the US
In the US, there are a huge number of private and non-profit cancer clinics with different levels of care. Therefore, the cost of treatment can vary significantly. Below you can see average cancer treatment costs:
| | |
| --- | --- |
| Type of service | Minimal Cost |
| Treatment of prostate cancer | $3,500 |
| Treatment of cervical cancer | $2,450 |
| Liver cancer treatment | $2,100 |
| Treatment of blood cancer | $3,400 |
| Melanoma treatment | $2,600 |
| Kidney cancer treatment | $3,400 |
| Breast cancer treatment | $2,900 |
| Sarcoma treatment | $2,850 |
Expenses can also be influenced by factors such as the type of cancer, its stage, length of hospitalization, the need for surgery, the cost of the drugs needed, and many others. However, the high quality of cancer care in the United States fully justifies its cost.
How to finance cancer treatment in the USA
Medicare
Medicare covers cancer treatment prescribed by a doctor who accepts Medicare. Medicare pays 80% of what your care provider bills for prescribed, approved cancer treatments. You're responsible for 20% of the billed amount until you hit your annual deductible.
Medicaid
The Medicaid Cancer Treatment Program is a Medicaid program for eligible persons who need treatment for breast, cervical, colorectal or prostate cancer (and in some cases, pre-cancerous conditions of these cancers).
Grants
If you have no insurance, you may look for grants. Cancer.net has a financial assistance page that will lead people to grants. CancerCare also offers financial assistance, and managecancer.org has links to resources that offer financial help.
Social security benefits
If you have limited income and resources to pay for medical care, contact your local Social Security office or the national Social Security Administration for more information.
Payday loans
You can possibly decrease the cost of cancer treatment by getting a payday loan. This product is very popular among people who need money for cancer treatment as banks tend to reject such applications. Payday loans Medford Oregon are the easiest loans to get, according to statistics. Application is completed online with no credit checks and no collateral. This is a good option if you know exactly how much you'll need to spend for the cancer treatment and how soon you can pay back. A payday loan will include interest, but it still might be a more affordable, easier and faster option than separate medical debts.
Your college or university
If you are a full-time or part-time student, check with your school to see if they offer insurance coverage.
Jobs or union
If you or your spouse has a job that offers health insurance, ask if you can get it or buy into it. If you had insurance but lost your job within the last 3 months, ask if you are eligible for COBRA. This is a law that lets you keep your insurance for 18 months, sometimes longer. You pay the full cost.
Top 5 cancer centers in the USA
In the US, there are many private and public oncology clinics with different levels of service and different pricing policies. Some of the most famous clinics are:
1. Memorial Sloan Kettering Cancer Center
It is a non-profit hospital located in New York City. The Cancer Center was founded in 1884 by a group of patrons and businessmen. In 1936 the hospital moved to its current location. The land for its construction was donated by John D. Rockefeller. It has since grown into one of the country's leading medical research centers and one of the most sought-after cancer clinics.
2. Mayo Clinic
Mayo Clinic is one of the most famous hospitals in the world. The Cancer Center has three campuses located in Phoenix, Arizona, Jacksonville, Florida, and Rochester, Minnesota. The clinic provides qualified high-tech oncological care to patients from all over the world.
3. Dana Farber Clinic
Based in Boston, the Dana-Farber Cancer Institute has long been a world leader in cancer diagnosis, treatment, and research. The Dana-Farber Institute and the Women's Cancer Center work together to provide comprehensive care for women and men with breast cancer. They collaborate with leading surgeons, oncologists and radiologists of the country, many of whom are the authors of techniques that have now become the standard for effective treatment of breast cancer.
4. Johns Hopkins Hospital
Like the Mayo Clinic, Johns Hopkins Hospital is one of the most renowned and trusted medical institutions in the United States. Along with traditional methods of treating malignant tumors, progressive methods are actively practiced in the hospital. In particular, the Cindy Kimmel Comprehensive Cancer Center at Johns Hopkins University is conducting numerous studies on immunotherapy and bone marrow transplantation.
5. Cleveland Clinic
This is a large private medical center located in Cleveland, Ohio. The Cleveland Clinic Cancer Center employs more than 450 physicians, researchers, nurses and technicians providing expert care to thousands of cancer patients each year. The center specializes in such methods of cancer treatment as oncosurgery, chemotherapy, high-tech radiation therapy, immunotherapy, targeted therapy, etc.
How is cancer diagnosed and treated in the US?
High-quality diagnostics and timely initiation of treatment can significantly improve the patient's prognosis and increase the chances of recovery. In American cancer centers, the following general types of diagnostics are used:
Laboratory tests. Analysis of urine, blood and other body fluids helps doctors identify abnormalities caused by a malignant process. American clinics are equipped with powerful laboratory equipment that allows for complex analyzes, such as genetic testing, molecular profiling of the tumor, detection of tumor markers, etc.
Diagnostic imaging tests. These techniques allow the doctor to assess the condition of the internal structures of the body in a non-invasive way. In US clinics, they use such methods as digital X-ray, digital ultrasound, bone scintigraphy, CT, MRI, PET. Thanks to high-tech equipment, oncologists are able to detect cancer at a very early stage, so the percentage of cured patients here is very high.
Endoscopic diagnostics. This is another way that allows the doctor to look inside the patient's body without surgery. Endoscopy provides detailed information about the condition of tissues, and therefore is considered one of the most reliable methods for diagnosing cancerous tumors.
Biopsy. During a biopsy, the doctor takes a sample of tissue for laboratory analysis. There are several ways to collect samples. The choice of technique will depend on the type of cancer and its location. American oncologists prefer the least invasive biopsy methods. Modern imaging systems make it possible to conduct a biopsy as accurately as possible, avoiding excessive traumatization of surrounding tissues.
After a comprehensive diagnosis and the final diagnosis, a personalized treatment plan is drawn up, taking into account many individual characteristics of the patient, such as age, concomitant diseases, tolerability of certain therapies, etc.
As in other countries, the three main areas of cancer treatment in the USA are:
Chemotherapy. In the United States, ongoing scientific research is devoted to the search for new, more effective and safe drugs for cancer. Numerous clinical trials are being conducted in local clinics, in which one can take part. A wide range of chemotherapy drugs is available to patients at US cancer centers. The treatment protocol is drawn up individually, taking into account the molecular characteristics of the tumor.
Radiation therapy. American clinics are equipped with high-tech radiation units, thanks to which it is possible to target the tumor. For the treatment of various types of cancer, they use treatment methods such as stereotactic surgery, intensity-modulated radiotherapy, rotational volume-modulated radiation, hypofractionated radiotherapy, etc.
Surgery. It has been and remains the "gold standard" for the treatment of most cancers. American clinics were among the first to start practicing minimally invasive surgeries, which allow you to remove the tumor in a gentle way. In addition, robotic operations are being carried out. They are distinguished by high precision and surgical delicacy. The robot can work with very small structures – blood vessels, nerves – that are inaccessible to the surgeon's hands. The treatment of uterine cancer can be carried out using a robotic surgical system.
Transplantation of stem cells. Some types of cancer require aggressive chemotherapy treatment. However, high doses of chemotherapy destroy stem cells in the bone marrow, causing a malfunction in the process of hematopoiesis. Stem cell transplantation helps doctors use high-dose chemotherapy, subsequently restoring the patient's bone marrow. Transplant technology has helped American oncologists make significant progress in the treatment of hematological cancer.
Hormone therapy. Oncologists know that some types of cancer require certain hormones in order for the tumor to grow and develop. Hormone therapy blocks the production of these hormones, thus suppressing the development of the malignant process. Breast cancer treatment in the US often involves hormone therapy. Before starting treatment, a special analysis is carried out to find out if the tumor is hormone-dependent.
Innovative cancer therapies for 2022
In addition to standard, clinically proven and time-tested methods, American doctors are constantly looking for new, more effective ways to fight cancer.
Targeted therapy. This innovative cancer treatment has been hailed as a breakthrough by the American Cancer Society. Targeted therapy is a very specific type of chemotherapy that targets specific components of cancer cells that distinguish them from healthy cells. Some targeted drugs turn off the chemical signals needed for tumor cells to divide and grow. Others block the growth of blood vessels that feed the tumor. Still others "carry" toxic substances through the membrane of a cancer cell, destroying it.
Immunotherapy. This method began to be used relatively recently but has already managed to establish itself as a promising way to fight cancer. Immunotherapy stimulates the body's natural defenses by "training" it to recognize and kill cancer cells. Currently, American research centers are actively researching oncolytic viruses that are capable of infecting and destroying tumor cells.
Photodynamic therapy. It involves the use of drugs that make cancer cells hypersensitive to light. This is a relatively new cancer treatment that is not yet widely available, but the American Cancer Society suggests that it could be a breakthrough in cancer treatment. It is now used during surgery to prevent cancer from recurring in large parts of the body, such as the abdomen or pleural cavity.
Proton therapy. It is an extremely precise form of radiation treatment for cancer. It has many advantages over standard radiotherapy, as it allows high doses of radiation to be delivered to the tumor without damaging healthy tissue. Lung cancer treatment in the US often involves the use of proton therapy. In addition, it is used to treat cancer of the head and neck, brain, eyes, breast, liver, as well as lymphoma and other types of cancer.
Directed therapy. This method of treatment involves the use of genetic testing in order to choose the most effective treatment tactics based on the specific genetic characteristics of a particular tumor. There are many clinical trials underway for new targeted drugs targeting specific gene mutations in breast, lung, colorectal cancer, as well as some types of leukemia and melanoma.